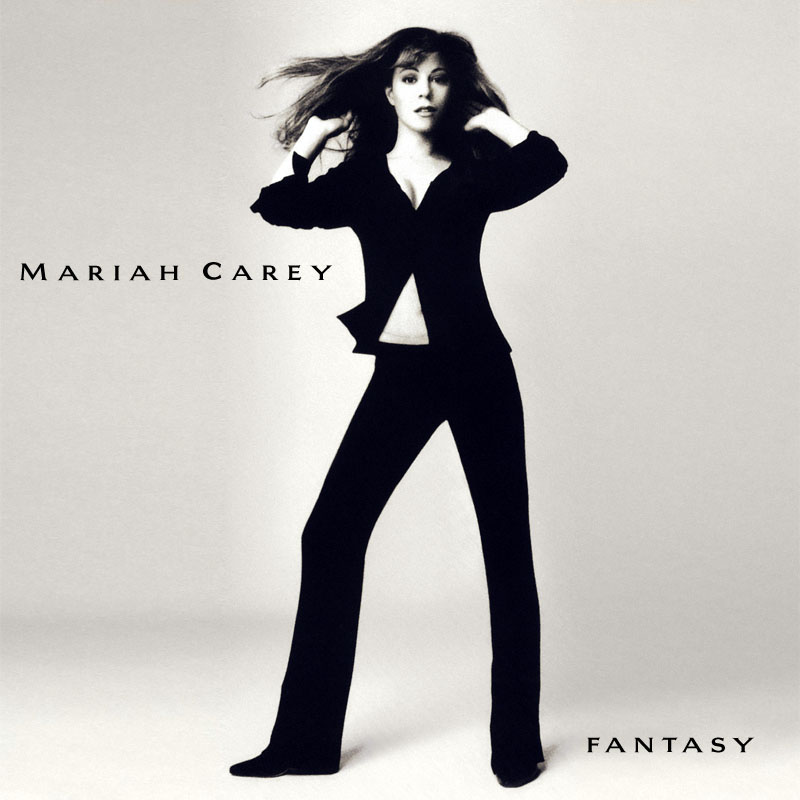 Fantasy
Mariah started 1995 with several songs, but it would be another nine months before her fans got to hear them. The first thing they heard, at the end of September, was "Fantasy". If "Dreamlover" had seemed like a great single, this one was even better, with a slinky hip-hop groove, a sensuous vocal, and the kind of hook that just sank into the brain.
It was as close to absolutely perfect pop as Mariah had come. That seemed to be the overwhelming opinion all across the United States. On its release, "Fantasy" did what only one other single (Michael Jackson's "You are not alone") had ever done before: it entered the Billboard Hot 100 at number 1. This made Mariah the first woman ever to accomplish this, and it meant that "Fantasy" was playing almost everywhere during the fall, as it stayed in the top position for eight straight weeks.
The single was coproduced with Dave Hall (who'd worked with Mariah on "Dreamlover"). "I had the melody idea for Fantasy and then I was listening to the radio and I heard Genius Of Love (the 1982 hit for the Tom Tom Club, a side project for members of Talking Heads), and I hadn't heard it in a long time," Mariah told Fred Bronson. "It reminded me of growing up and listening to the radio and the feeling that song gave me seemed to go along with the melody and the basic idea I had for Fantasy. I initially told Dave Hall about the idea and we did it."
Once the idea had clicked into place, and permission had been gained from the Tom Tom Club to sample the song, putting everything together was a snap. "Mariah brought me Genius Of Love and I laid some strings on it," Dave Hall recalled, "and put it to a groove that I felt would really fit her. And that song didn't take us but a minute to do, because she really busted that out within two days. We did a rough copy and let Tommy Mottola hear it and he loved it, so all we had to do was bring it back in and mix it down."
The song itself made a huge splash, but what went one better was the remix that was included on the single, by Sean ("Puffy") Combs, with a rap by O.D.B. (Ol' Dirty Bastard) of the Wu-Tang Clan. This giant step toward hip-hop was going to get noticed, although Mariah insisted that she'd "always been a fan of hip-hop music", and having grown up in New York, it was likely she had been.
The choice to use Puffy, who wasn't widely known outside hiphop circles then, seemed odd; Mariah could have had her pick of any name producer to do the remix. "He's so known in the street and he's one of the best people out there. We kind of did what we both do and having O.D.B. took it to another level. He was my ultimate choice, so I was really happy about the way it turned out."
If Puffy had seemed like an odd selection, O.D.B. was just plain weird. No one had thought of a collaboration between Mariah and Wu-Tang. "I've been a fan of his style since Wu-Tang first came out," she said. "I just think it's kind of unique about how he raps and kind of sings, too. I thought that because we were using the Tom Tom Club track that his voice was perfectly suited for it. We got a hold of him, and we did it. He basically went in and freestyled."
Even with this first single, it was obvious that Mariah had been very involved. She'd even directed the video for "Fantasy", which premiered September 7 on the MTV Music Video Awards. Set in one of Mariah's very favorite places, an amusement park - the same old park were scened from "Big" and "Fatal attraction" were shot - it showed Mariah roller-blading, and Mariah singing along on a roller-coaster ride. "The did not expect me to get that shot," she admitted. "They were saying, 'How she's going to sing on a roller coaster?' We put a little speaker in the bottom of the car, where my feet were. We built the rig in front of the roller coaster and the lens kept falling off."

Go back