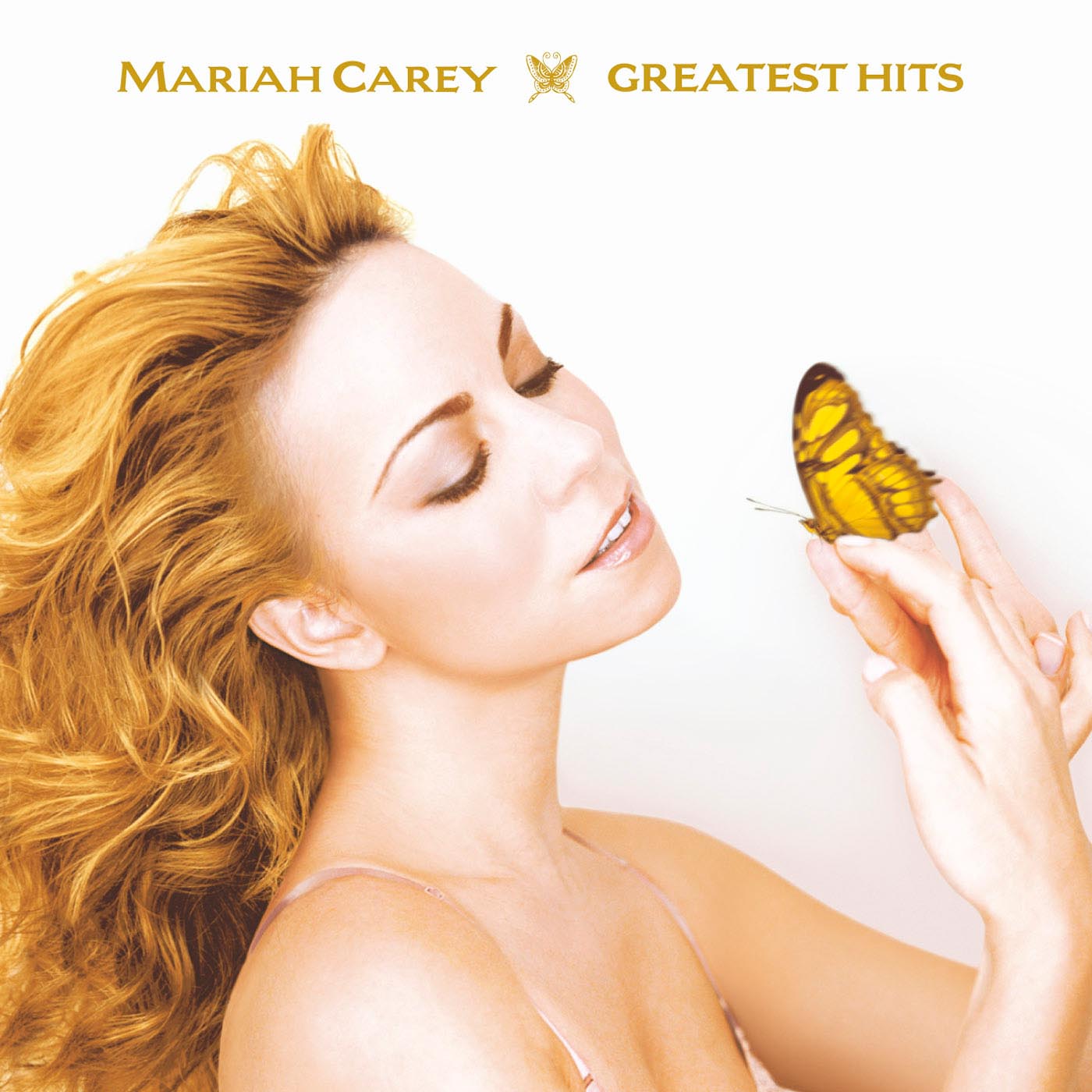 Greatest Hits
Tracklisting
CD One:
1. Vision Of Love
2. Love Takes Time
3. Someday
4. I Don't Wanna Cry
5. Emotions
6. Can't Let Go
7. Make It Happen
8. I'll Be There
9. Dreamlover
10. Hero
11. Without You
12. Anytime You Need A Friend
13. Endless Love
14. Fantasy

CD Two:
1. One Sweet Day
2. Always Be My Baby
3. Forever
4. Underneath The Stars
5. Honey
6. Butterfly
7. My All
8. Sweetheart
9. When You Believe
10. I Still Believe
11. Heartbreaker
12. Thank God I Found You
13. Can't Take That Away (Mariah's Theme)

On November 23, 2001, Columbia Records released "Greatest hits". Mariah: "The difference is the #1's record only had songs that reached #1 on it, therefore I wouldn't let them call it greatest hits. I made a huge deal out of it: You may not call this a greatest hits album. I think people are going to like this 'Greatest hits' because there are songs on it that were not necessarily singles. These are songs that needed to be really heard, and I'm happy about it. There's a song, 'Vanishing', that's on the record that I really love, and there's a song called 'Underneath the stars' that I always kind of fought for. There's a lot of songs that I'm happy are gonna see the light of day."

According to Sony, "Mariah Carey has the unique distinction of having had more Billboard #1 singles than any other artist in history. She not only had a #1 single for every year of the 1990's, but almost all her albums had singles that reached the #1 position except for her 'Merry Christmas' album. As a recording artist, Mariah has sold over 120 million records making her one of the most successful artists of all time. Furthermore, with the exception of the Jackson 5 song 'I'll be there', she has either written or co-written all of her #1 songs to date making her one of the most successful songwriters of all times as well.

This unique double album is a definitive career overview of one of the biggest selling recording artists of our time. It is one of her best-selling albums to date, and is considered by many music critics to be the official soundtrack of the 90's because no other artist at that time was more influential to the music scene. It covers her most popular songs from all of Mariah Carey's Columbia Records releases - from her 1990 self titled debut album through 1999's 'Rainbow'. In addition to all these, it also features duets with Luther Vandross, Trey Lorenz, Boyz II Men, Jay-Z, JD, Whitney Houston, Joe, 98 Degrees and an unreleased So So Def Remix with Jermaine Dupri and Lil Bow Wow."

The Age wrote about the album: "Mariah Carey is the Tim Buckley of the new millennium. An astonishing vocal range, an obsession with black music, and a tragic inability to function in the world their talent has forced them to inhabit. The list of hard core innovators and neglected old school stars that Mariah has sought out and credited should have her right up there with Missy Elliot, not stuck down there with Christina Aguilera. OK, her determination to beat the Lopezes and Britneys at their own game has left to her working too hard on her body rather than her body of work.

As with any Mariah LP, there are too many Whitney Houston moments to make 'Greatest hits' an essential purchase. But even without the crowning of her career - this year's greatest single 'Loverboy' - such Diva drama queenery is transcended by the delirious elation of the faster songs. And there are the first signs of the intelligence that would work to make the surreally supra-musical soundscapes of the cruelly neglected 'Glitter' on songs from 'Rainbow', where she gets behind the desk as well as the mic. The small-print evidence is that the more control Mariah takes, the better her records become. And that makes her next album a classic."

Unfortunately, this album was not the success Sony expected. It only debuted at number 52 on the Billboard album chart. In 2003 the album was certified platinum by the RIAA.



Go back