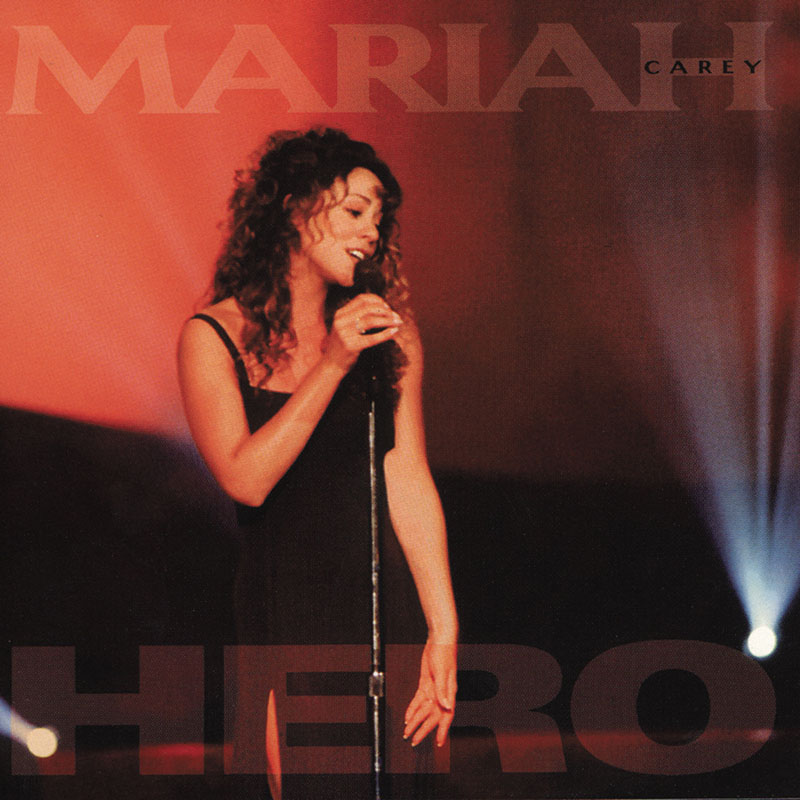 Hero
The second single from the album "Music box" was the powerful and inspirational ballad "Hero", and just like "Dreamlover" it climbed to number 1. This gave Mariah a remarkable total of eight number 1 Billboard singles. Curiously, "Hero" wasn't originally intended as a song for Mariah to sing, let alone as a single. It was meant to be the theme for the movie "Hero", starring Dustin Hoffman and Geena Davis.
"The people over at Epic Records were going to do the soundtrack for the film," Walter Afanasieff explained to Fred Bronson. "They wanted to have Mariah sing the theme to it, but they didn't really think they could because at that time you couldn't get near Mariah to do anything film-wise. So they wanted to try the next best thing, which was to have us write something."
The movie had been screened for Afanasieff, and he'd been advised that Gloria Estefan would probably sing the theme. This happened while he and Mariah were working on "Music box". "I went to New York and we were in the studio and came to a break. I was sitting at the piano and told Mariah about this movie. Within two hours, we had this incredible seed for this song, Hero. It was never meant for Mariah to sing. In her mind, we were writing a song for Gloria Estefan for this movie. And we went into an area that Mariah really didn't go into. In her words, it was a bit too schmaltzy or too pop ballady or too old-fashioned as far as melody and lyrics."
The two were still working on the song when Tommy came into the studio to meet Mariah. Hearing a rough take, he asked what it was and they explained it to him. "Are you kidding me?" he replied. "You can't give this song to this movie. This is too good, Mariah, you have to take this song. You have to do it."
And so, with some lyrical changes, making it very personal, that was what she did. Walter told the Epic soundtrack people that he'd been unable to come up with a song, and the movie' s theme, "Heart of a hero", ended up being written, recorded, and produced by Luther Vandross.
There were two versions of Hero: "a simpler performance on tape and a more difficult one, with Mariah singing out more. But we choose a happy medium. The song really calls for not anything really fancy. But she's always fighting the forces inside of her because she's her own devil's advocate. She wants to do something that's so over the top and use her talents and the voice she has. But she also knows she has to restrain herself and do what music really calls for."
The proceeds from the single, which stayed at number 1 for four weeks, were donated to the families of the victims of the shooting on the Long Island Rail Road, a commuter line Mariah knew well. On December 7, 1993, a man had gone on a shooting rampage on an evening train. Mariah had often taken the LIRR in her younger days, when she was still living on Long Island and working with Ben Margulies at Bedworks.
Around 1995, two claims popped up against Mariah in court, one from Christopher Selletti and the other from Rhonda Dimmie, who oddly claimed different things: Selletti says the lyrics to "Hero" were his, Dimmie said the music was hers. They had never met or even heard of each other, however.

Go back