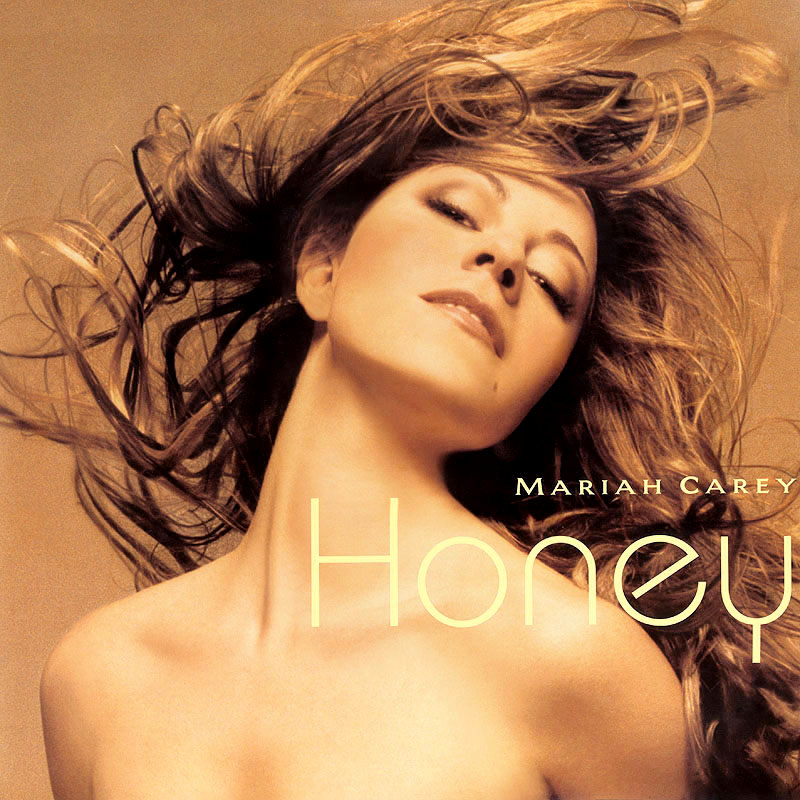 Honey
"Honey" was the first single of Mariah's album "Butterfly" and released in August 1997. Especially for this album, Mariah measured herself a new look. She was sexier than ever. The public got its first taste of the new, freer Mariah when the video for "Honey" premiered on MTV. As it was meant to do, it turned heads. Suddenly, Mariah was grown up, Agent M, very sexy, showing a lot more of herself - in more ways than one: in action escaping from a mansion, riding a jet ski while evading the pursuing thugs, and ending up on a beach safe in the arms of a hunk. This was, for the first time, Mariah as a babe. Not only that, but the music was different. "Honey" went all the way into hip-hop, further than Mariah had ever gone before, thanks to Puffy being at the controls. Apparently, he had been given a free rein to do his magic - magic that already produced two consecutive number 1 singles, "I'll be missing you" and "Mo money mo problems".
About "Honey" Mariah says: "Puff and I wanted to work together, making the first single. We were doing all sorts of things, so I already had a few songs I liked, but it wasn't quite exactly wat I was looking for. The original idea for 'Honey' is based on the song 'Body rock' by Treacherous Three. He let me hear it on the phone, and my reaction was: This is it. So I wrote 'Honey' referring to that song, and we worked together at Puffy's house."
The idea for the video had been entirely Mariah's. "It was my whole concept," she said. "Director Paul Hunter and I talked about it for a while, and collaborated on it." Shot during the summer in Puerto Rico, "It was a grueling process, I'm not going to say it was easy. I got up at 3 am every day, and worked until 9 in the morning the next day - for four hours in a row, swimming in my Gucci pumps. I can't say that I really jumped off the roof, but I did dive into the pool. And I did wear and swim in those pumps, and I was not happy."
It all seemed innocent enough, another video with a story line, plenty of spy overtones, and action. But there were people eager to read a lot more into it, a subtext of Mariah escaping the controlling grip of Tommy Mottola. Even Walter Afanasieff, who was loyal to both Mariah and Tommy (his employer), called it "the most incredibly coincidental thing that you could put out. Everything in the video is 'Fuck you, Tommy'."
Mariah, however, insisted that that simply was not the case. There was no slight to Tommy intended in the video, and the people who thought there was were just imagining things. Even so, a few insisted that the video was a parody of the way she'd been treated. And what was Tommy's reaction? "Tommy loves the video," a spokesperson said, "and says it's the best yet from Mariah. With its clothes and sensuous looks, it was certainly racier than any video she'd made before. "I don't really think the video is overly sexual," Mariah contested. "But for me - I mean people used to think I was the nineties version of Mary Poppins."
Wether the "Honey" video was controversial or truly innocent was irrelevant to most of the people who watched it on television. Or to those who rushed out the week of the single's release and gave Mariah something that had never been achieved before - her third single to enter the Billboard Hot 100 at number 1. Its importance went well beyond its chart placing, however. "Honey" was the record that gave Mariah hip-hop credibility. Before that, she'd been seen as a pop singer with R&B tendencies, someone who might have liked hip-hop, but who wasn't really a part of the scene. "Honey" changed that perception, and even those who'd once dismissed Mariah as a wannabe were forced to take a second look.
To be fair, a good deal of this success had to do with Sean ("Puffy") Combs' production, but the song had originated with Mariah, after she'd worked with rapper Q-Tip, from A Tribe Called Quest. "They had an idea and they asked me to come in and produce the record," Combs said. So far it seemed so good. But he wasn't allowed in the studio when Mariah was doing her vocal takes - an odd situation for a producer. "A lot of people feel I'm overbearing," Combs explained, "so I wasn't allowed there. I'm trying to work on that. I'm such a perfectionist, sometimes I don't give people the chance to breathe. Mariah recorded 'Honey' until she thought it was perfect, like a hundred times. She gave me a hundred tracks to choose from."
The combination of Mariah and Puff Daddy seemed to be magical, and there was no denying "Honey" had exactly what the charts were looking for, even if it seemed like a fairly radical departure for Mariah from the music for which she was known. But it was really the product of a woman who now felt in a position to express herself more freely. With its samples of "The body rock" by Treacherous 3 and "Hey DJ", on top of Q-Tip's drum programming, Stevie J's keyboards, and additional vocals from Mase and The Lox, this was a Mariah no one had had a chance to hear before: very sexy, very sassy, very contemporary. Like all of Combs' productions, "Honey" sounded dense, but there was a lot of space within the sound. "I don't know where I got the idea about honey and love, but I like it," Mariah said.
This hit not only made her the first artist to have three singles go straight in at number 1, but it also gave her the most number 1 hits of any female solo artist - twelve - one ahead of both Madonna and Whitney Houston. And it put her in a fourth-place tie with the Supremes for the most Number 1 singles, behind only Michael Jackson, Elvis Presley and the Beatles. She was now in very prestigious company. And, essentially, it made her a classic pop-era singer, not that she wasn't one already.
"Honey" only lasted at Number 1 for two weeks, but somehow that didn't matter. Its impact had been made, and the "new" Mariah had been announced. So when her album "Butterfly" appeared on September 16, it too entered the chart in the top position.

Go back