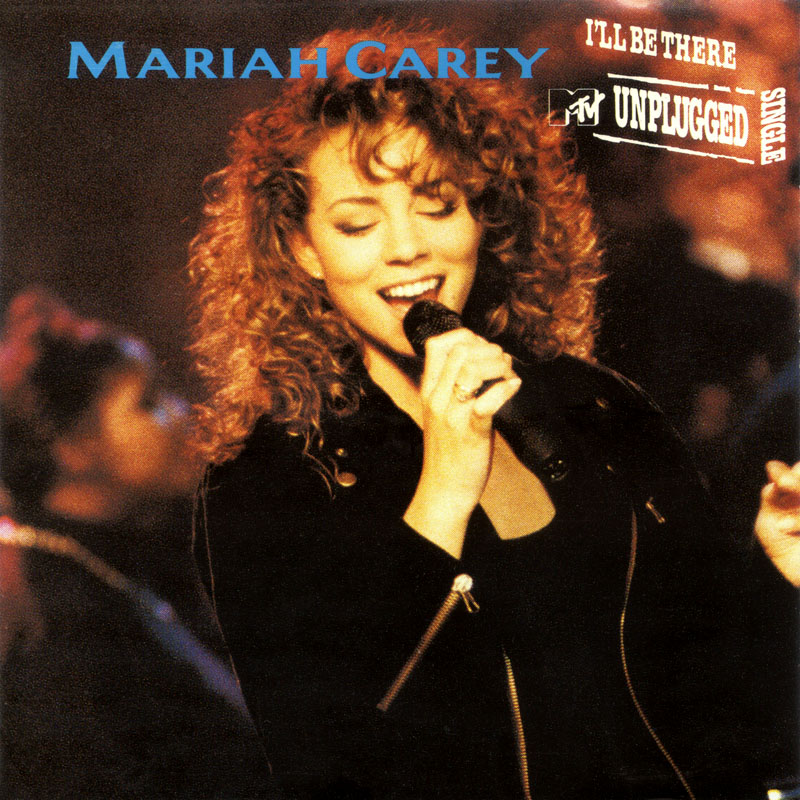 I'll Be There
Two days before the MTV Unplugged-show, Mariah decided to add "I'll be there". "People kept saying to do an oldie," Mariah said. "Two nights before the actual show I decided on I'll Be There" (a number 1 hit for the Jackson Five which stayed at the top of the charts for five weeks). This, of course, only added to the problems. It meant another song to hurriedly arrange and learn - and to cause the crew headaches.
The way Walter and Mariah had arranged the song, she took the Michael Jackson lead and Trey Lorenz, with his high, sweet voice, took what had originally been Jermaine Jackson's part, the second lead. After two years of working with Mariah, Trey was getting his chance to shine, and outfitted in a worn black leather motorcycle jacket and a baseball cap, he looked ready for it.
It was interesting that with so many songs of her own, Mariah chose to cover a tune that was more than twenty years old. As a bit of fun, or as a tribute to the Jacksons, it was a good idea. But almost no one could have predicted the impact this particular performance would have. As good as everything so far had been - and it had been exceptional - suddenly giving Mariah a reputation as a live performer that would have been difficult for anyone, let alone a rookie, to live up to, this song now propelled it into the stratosphere.
On the surface, there was nothing remarkable about it. The song had been covered many times over the years, by any number of people. Maybe it was the friendship between Mariah and Trey, or maybe it was the atmosphere that was in the studio that night. Whatever the cause, it brought out something amazing in both singers and started Trey Lorenz on a well-earned solo career.
With such a short preparation time, the instrumental arrangement was very basic, just a simple backing for the voices, all of which backed Mariah on the verses. When she introduced Trey for his part, he seemed bashful at first, but then he dove into the role and sang his heart out. The first time around, he stuck to the melody, giving a lovely counterpoint to Mariah's alto. But on his second chance, he climaxed by soaring into the high, unbelievable falsetto that had first made Mariah take notice of him in the recording studio. It was another of those perfect moments, and everyone knew it, performers and audience alike. Although the performance was equally tender, Mariah seemed quite content to hold back and let Trey bask in the spotlight.
Later he would be unable to recall his performance, which he didn't hear for a few months after the taping. "Great goodness, I think we were singing really good that day, but I wasn't so sure about me. I was really relieved when I listened."
All too often today, concerts bring standing ovations followed by planned encores. Mariah and Trey's rendition of "I'll be there" literally brought the crowd out of their seats, clapping and cheering, an accolade that was honestly earned.
First there was no intention to release this song as a single, but because of huge demand from the fans, Sony decided otherwise. "I'll be there" became Mariah's sixth number 1-hit in the USA and her first in the Netherlands and many other countries.

Go back