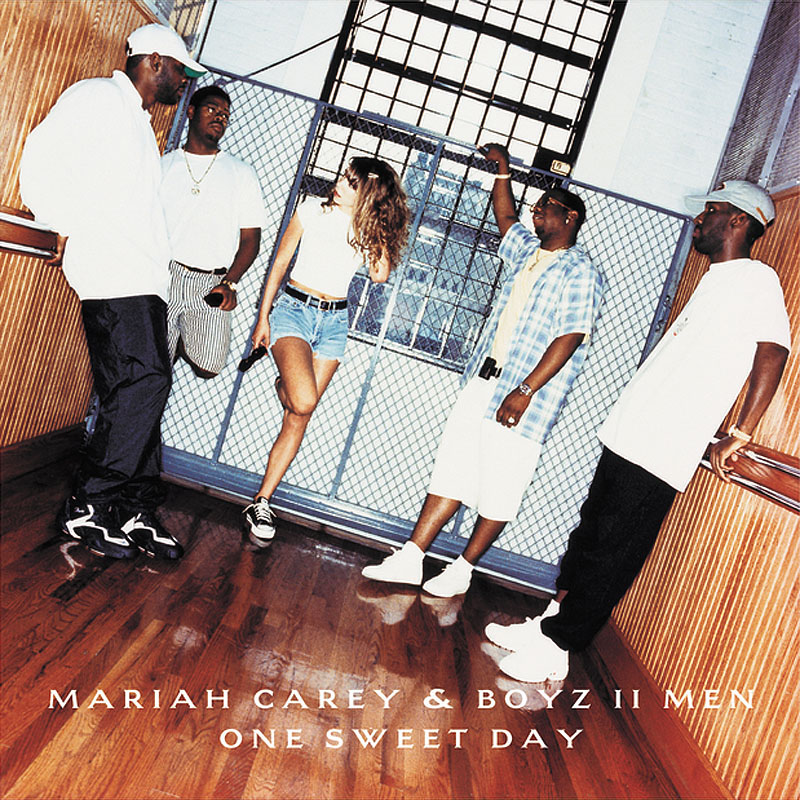 One Sweet Day
The second single from "Daydream" did something unheard of - it became Mariah's second single in a row to enter the Billboard Hot 100 at Number 1, a feat unequaled by any other artist.
"One sweet day" teamed Mariah up with Boyz II Men, an irresistible combination of two of the hottest talents in music. "I wrote the initial idea for One Sweet Day with Walter," she explained, "and I had the chorus... I stopped and said, 'I really wanna do this with Boyz II Men', because... obviously I'm a big fan of theirs and I just thought that the work was crying out for them, the vocals that they do, so I put it away and said, 'Who knows if this could ever happen, but I just don't wanna finish this song because I want it to be our song if we ever do it together.' "
For Mariah, whose good friend David Cole, the man who'd worked with her on two albums and "MTV Unplugged", had recently died, the song was about the "whole idea of when you lose people that are close to you, it changes your life and changes your perspective".
Finally, she had the chance to team up with Boyz II Men. "When they came into the studio I played them the idea for the song and when [it] finished, they looked at each other, a bit stunned, and told me that Nat [Nathan Morris] had written a song for his road manager who had passed away. It had basically the same lyrics and fitted over the same chord changes."
Was it coincidence, or just meant to be? "It was really, really weird," Mariah said. "We finished the song right then and there." "We were kind of flipped about it ourselves," Shawn Stockman agreed. "Fate had a lot to do with that. I know some people won't believe it, but we wouldn't make up such a crazy story."
The recording session itself was the video, and that meant, as Walter Afanasieff recalled for Fred Bronson: "It was crazy. They had film crews and video guys. I'm at the board trying to produce. [Boyz II Men] are the busiest guys in the world. Their managers and bodyguards are in the waiting room and it's 4:30 and they have until 7 o'clock. You've got four guys and you haven't even worked out their parts yet. So I was sweating. And these guys are running around having a ball, because Mariah and them are laughing and screaming and they're being interviewed. And I'm taping people on the shoulder. 糎e've got to get to the microphone!' They're gone in a couple of hours, so I recorded everything they did, praying it was enough. After going home to my studio, I put the tracks together and did a rough blend of the four guys. And then Mariah went in and did some more voices to fill in a little bit, because it sounded like it's all Boyz II Men and there wasn't enough Mariah Carey on it."
But it wasn't enough for "One sweet day" to break one record. With that combination of talent, and that song, it just kept on selling and selling, keeping its number 1 position against all comers. Previously, the longest any song had stayed there was fourteen weeks (a tie between Whitney Houston and Boyz II Men), but "One sweet day" cruised past them all, ending up with an amazing sixteen weeks there, and giving Mariah yet another record to add to her collection.

Go back