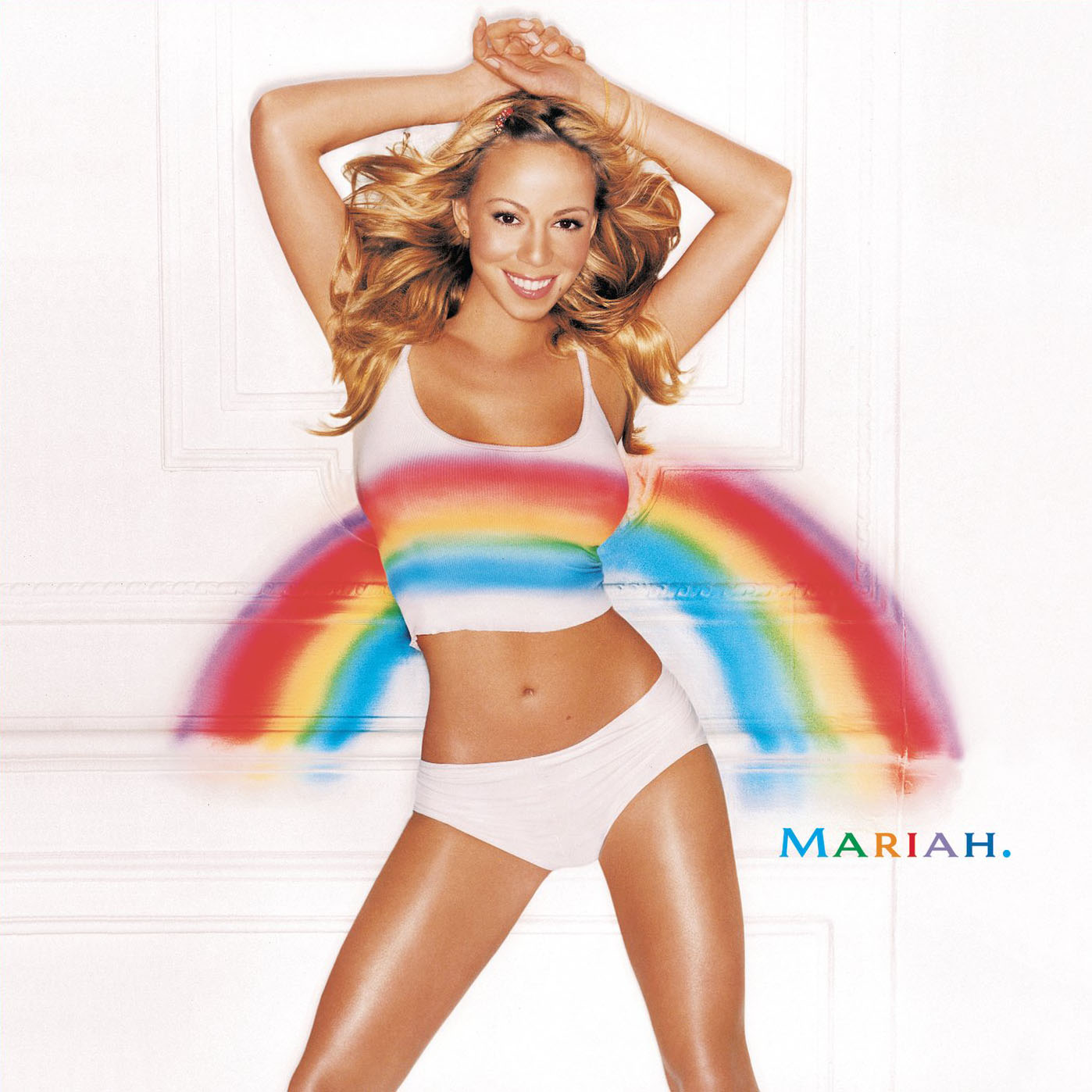 Rainbow
Tracklisting
1. Heartbreaker
2. Can't Take That Away (Mariah's Theme)
3. Bliss
4. How Much
5. After Tonight
6. X-Girlfriend
7. Heartbreaker (Remix)
8. Vulnerability (Interlude)
9. Against All Odds (Take A Look At Me Now)
10. Crybaby
11. Did I Do That?
12. Petals
13. Rainbow (Interlude)
14. Thank God I Found You

Following the completion of "The bachelor", Mariah turned her attention back to "All that glitters" which was once again green-lighted. Part of the deal was for Mariah to compose the songs and music for the film, and so she immediately settled back into the studio. Drawing on her own life for the fictional story, Mariah had soon fashioned several songs that reflected moody, emotional highs and lows but, in keeping with the setting of the movie, with a definite eighties feel. At the rate she was going, Mariah felt that the soundtrack would be completed just before she stepped in front of the cameras.

Unfortunately, "All that glitters" start time was pushed back yet again, and so Mariah was once more left in limbo with a handful of songs. "I was like okay", she told the Baltimore Sun. "If I'm going to do this, I'm either going to use some of the songs from the soundtrack or go back to square one and do a completely different album. So I decided to take the songs I had already done and just do a completely different album."

Sony was delighted at the news that they would get a new Mariah Carey album in 1999. Once again, they were less than thrilled when Mariah announced that she would be recruiting such rap and hip-hop stars as Jay-Z, Snoop Dogg, Da Brat, and Missy Elliot to help her make further inroads into rap and R&B. Although never made public, many in the Sony Records corporate empire believed that Mariah worked the experimentation out of her system with "Butterfly", and that she would now return to safe and potentially more lucrative middleof- the-road pop. But with her newfound sense of independence, Mariah was having none of that.

"It's a challenge to work with other artists," she told Breakout magazine. "On my first four albums, there were no songs with other artists because I was not allowed to. But, now that I decide what I do, I ask everybody to join in on my records." For "Rainbow", Mariah also made the decision to record in Capri, Italy rather than her normal recording haunts in New York. "I love New York," she told a Blitz TV interviewer. "But if I'm there, I want to go out, friends come to the studio, and the phone rings constantly. But in Capri, I am in a remote place, and there is no one I can run into."

Mariah immediately rang up Walter Afanasieff who was integral to creating her trademark ballads. Unfortunately, Afanasieff, who had become an in-house producer for other Sony acts largely because of his work with Mariah, was busy working on another album and was not available. Mariah was disappointed and just a little bit suspicious. Again, she speculated that the fact that Walter was not available for her new album was Sony's doing; it was another stumbling block put in her path because of lingering hard feelings resulting from her divorce from Tommy. The falling out between Walter and Mariah appeared to be due to creative differences and not just to Sony's interference, but the record company's insistence on not responding to rumors only fueled suspicions that they were interfering with Mariah as some kind of revenge for her breakup with Tommy.

But she was not going to let the absence of Walter derail the album. David Foster had a reputation as a producer who knew his way around a ballad and who had a keen commercial sense. He was available and anxious at the opportunity to work with Mariah. For the album's dance-rap hip-hop songs, which she felt would end up taking at least half of the album, she chose the solid-gold hip-hop-rap producers Jimmy Jam and Terry Lewis. While she talked up Jam and Lewis to Launch magazine, Mariah, uncharacteristically, took the opportunity to take a shot at Walter. "I think Jimmy and Terry have added a different direction musically. I told them how great it was to be able to sit there (in the studio) and not have to say: No, not so schmaltzy."

In the booklet, Mariah said about the album: "This album chronicles my emotional rollercoater ride of the past year. If you listen closely, there's a story here with a very happy ending. After every storm - if you look hard enough - a rainbow appears."

In a perfect world
Human beings would co-exist
Harmoniously, like a rainbow
A multitude of colors
Each layer vibrant and clearly by itself
But in unison...
Boundless, breathtaking, celestial

"Rainbow" was released between October 27 and November 2, 1999. In September 2000, after the success of the duet with Westlife, the album was re-released with an extra song. In the USA, it became Mariah's biggest debut with 322,800 copies sold. It entered Billboard's 200 at number 2 and eventually shipped over 3 million copies in the USA alone.



Go back