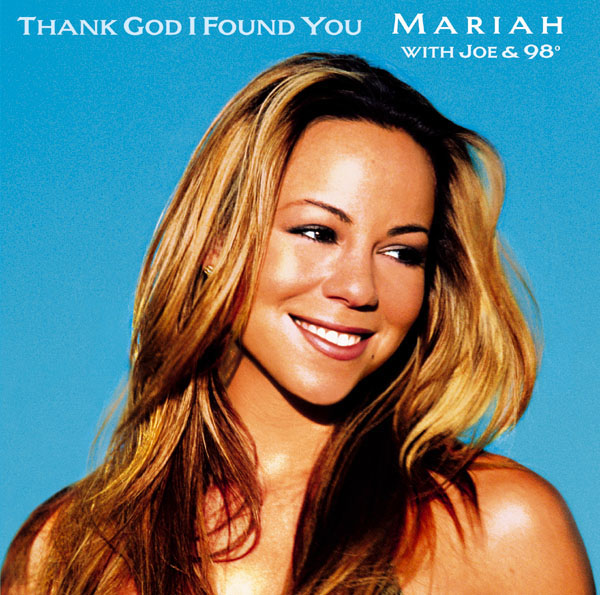 Thank God I Found You
Mariah's second single from the album "Rainbow", "Thank God I found you", teamed her up with boy-band 98° and R&B singer Joe, and both parties appeared in the song's performance-based video. The clip premiered on MTV's Total Request Live, as Joe and the members of 98° joined host Carson Daly in MTV's Times Square Studios. Mariah herself was in Spain on a promotional tour, but she took time out to join the powwow via phone to explain how she chose her collaborators for the single.
"It's like when I was writing 'One sweet day'," Mariah recalled. "It really cried out for a group to be singing with me and for a strong male-female thing in terms of going back and forth, vocally. So you know, we just naturally came together."
The video was shoot at the "Last chance summer dance" on September 12, 1999, in front of 27,000 people. The video remix was shot in October 1999 in a Hamburg bar, during a promotional tour in Germany.
On February 10, 2000, "Thank God I found you" reached the top spot, making it Mariah's 15th number 1 single. This means Mariah had a number 1 hit in every year of her career, 11 years in a row. Only Elvis Presly (17) and the Beatles (20) had more number 1 hits.
In the year 2000, songwriters Seth Swirsky and Warryn Campbell sued Mariah, claiming "Thank God I found" you was actually a copy of their composition "One of those love songs". But in a written ruling, U.S. District Judge Christina Snyder said there was a "lack of melodic similarity between the two songs". The judge did not find any "similarity in key, harmonic structure, tempo, or genre" between the songs, the ruling stated.

Go back