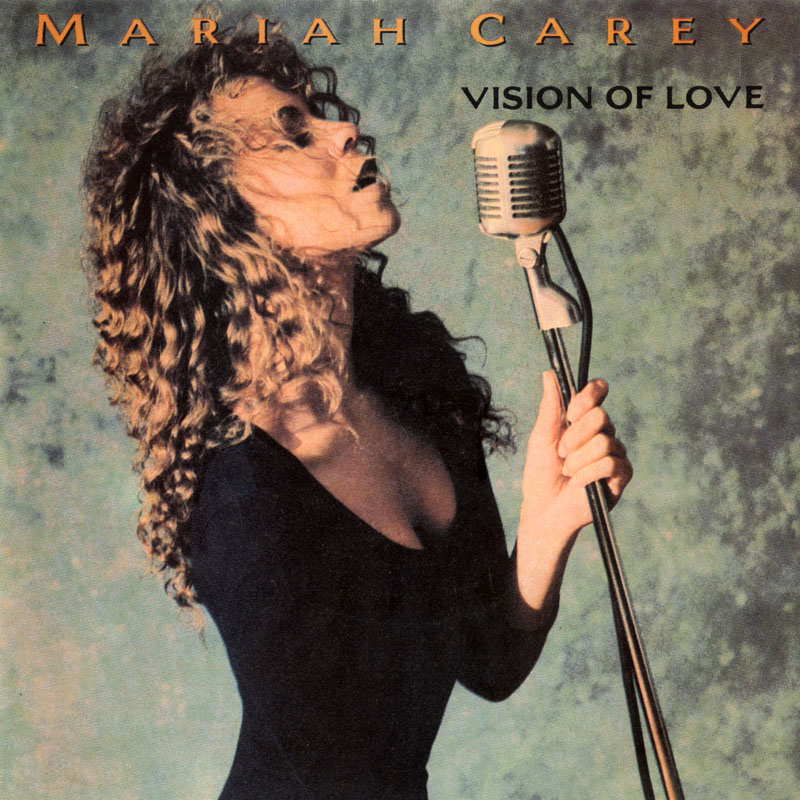 Vision Of Love
"Vision of love" was the first single from Mariah's debut album, written by Mariah and Ben Margulies. It began pouring out of radios in late May 1990, and by June 2, it entered Billboard's Top 100 list at number 73. The song was an instant smash, moving steadily up the charts. On August 4, 1990, this single reached the first place and stayed there for four weeks.
Mariah explained that she'd written the song about realizing her dreams as a singer, not about any kind of romance. "Right now, music is my boyfriend" was how she put it. The song was on the tape Mariah handed to Tommy Mottola. When producer Rhett Lawrence heard the demo, he realized the potential as a hit. But not as it currently stood - "a fifties sort of a shuffle". Mariah needed a more contemporary sound than that. So Lawrence, Mariah, Ben and Chris Toland worked together on the arrangement in the studio. The tempo was changed, session musicians were brought in to add guitars and bass, and Mariah recorded a new vocal. Her original vocal from the demo wasn't scrapped, though. It remained in the song as the second vocal in the chorus. Then, with some additional studio gloss, it was finished.
During the rehearsals for her promotion tour, Mariah would be singing "Vision of love" over and over. Her left hand moved at her side, she experimented with the harmonies, improvising a new arrangement with a pianist and two backup singers. In contrast to the lush production that dominates her debut album, the trio provided a spare accompaniment, leaving plenty of room for her mighty voice to explore the shape of the melody. Why, she was asked during a break, didn't she record the song this way? "It wasn't my choice to do so much production," she answered quickly before she went back to work.
The brain trust at Sony had decided that "Vision of love" would be the first single off the album. This being the era of MTV, a video was immediately ordered and shot. Mariah was surprisingly comfortable with the video process and eased through the endless takes and hours it took to bring the song to life. However, the first video for "Vision of love" failed to impress the Columbia top brass, and without any hesitation it was scrapped and another ordered. "The special treatment really upset me," a disgruntled former label employee said. "They spend $200,000 on a video and Mariah doesn't like it. No big deal." An informed source places the combined cost of both videos at $450,000. Label executive Don Ienner dismisses this figure as "total bullshit" but says, "If we're gonna take the time and effort that we did with Mariah, on every level, then we're going to image her the right way. If it costs a few extra dollars to make a splash in terms of the right imaging, you go ahead and do it."

Go back